Perfect Solutions for Big Space!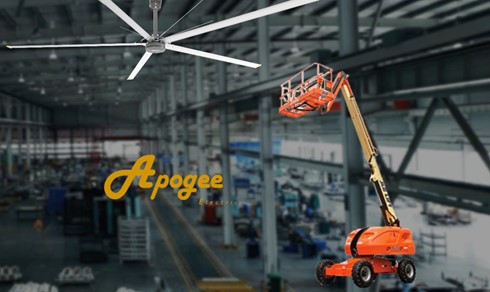 Why are HVLS Fans widely used in modern workshop and warehouse? In summer, the factory is hot and humid, with poor ventilation, the employees are often in an uneasy mood at work. At present, small fans are selected in workshop, but due to the limit airflow they can not solve the ventilation and cooling problem, how to improve the occupational health of employees and how to provide employees with a comfortable working environment become more important for many companies. The HVLS Fan has been used in many industries and many application. It has become the trend of modern time solution to solve the problem of ventilation and cooling.

Case – Warehouse Application
HVLS Fans are becoming an effective solution in modern working place. For example, in the warehouse industry, if the environment conditions are poor, the shelf life and quality of the products may be reduced or even a large amount of loss and waster may be caused! Therefore, the warehouse should maintain proper air flow and good ventilation, preventing moisture, corrosion, mildew, and deterioration according to the storage requirements of different items. In addition, once the product packaging of some goods becomes damp and soft, logistics and warehousing will also become the first object of customers complaints. On behalf of warehousing and logistics, more and more attention is paid to the configuration of ventilation and cooling equipment. Modern warehouse often use roof axial fans to promote air circulation and exchange, but he single use is not good, especially when the warehouse is high, only a short air passage can be formed in the space. Generally speaking, the logistics work area has high personnel mobility and large work areas. Most areas cannot be quipped with small fans, resulting in very low work efficiency and poor working environment for warehouse employees. The use of industrial energy-saving fans will solve these problems!
---
Post time: Dec-21-2021