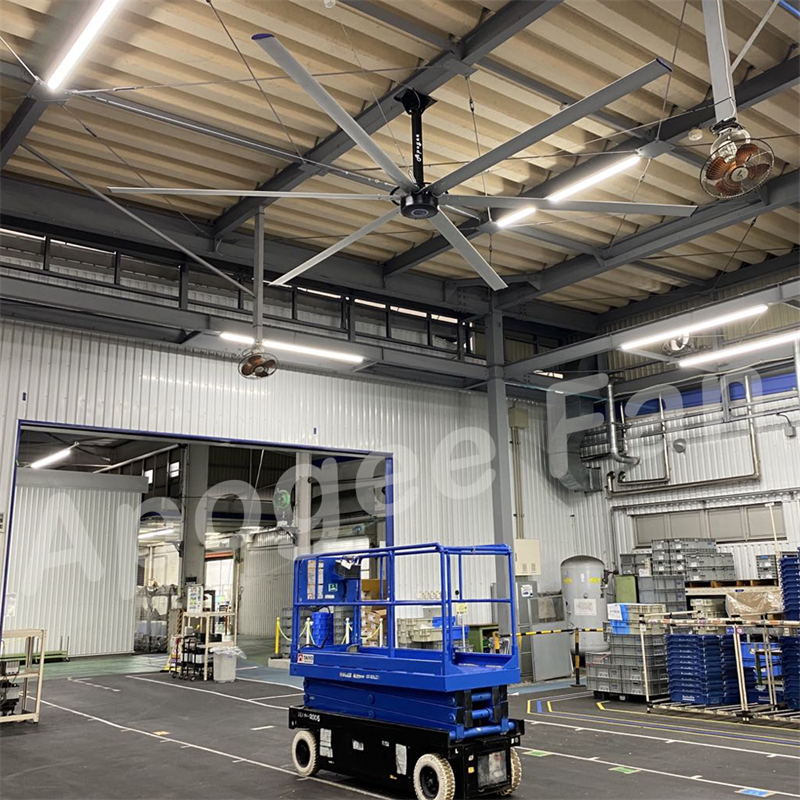 In recent years, with the continuous increase of temperature, it has caused a great impact on people's production and life. Especially in summer, the heat makes it increasingly difficult to get work done comfortably and efficiently in an indoor environment. When faced with cooling problems in a large commercial or industrial establishment, having an air conditioner can increase your electricity bills and cost you a fortune. Fortunately, the advent of high-volume, low-speed fans, oversized energy-efficient fans, has made affordable and efficient cooling systems for large industries a practical reality. Oversized energy efficient fans offer superior performance and cost-effectiveness for those looking to equip their commercial or industrial facility with a robust and reliable mechanical ceiling fan. The installation of super energy-saving fans is a technical process. In order to ensure the safe operation of fans, they should ideally be installed by professionals. Feel free to contact Apogee hvls fans if you have any questions.
In this article, we have listed some common mistakes that professionals and individuals should avoid in order to experience a hassle-free installation process:Improper distance between floor and fan
When installing the HVLS fan, there should be a safe and appropriate distance from the ground, so that the cooling air can actually be delivered to the ground. Considering the safety problem, the distance between the fan and the ground should be greater than 3 meters, and the distance from the highest obstacle point should be greater than 0.5 Meter. If the distance between the floor and ceiling is too great, you can use an "extension rod" so that the ceiling fan can be installed at the recommended height.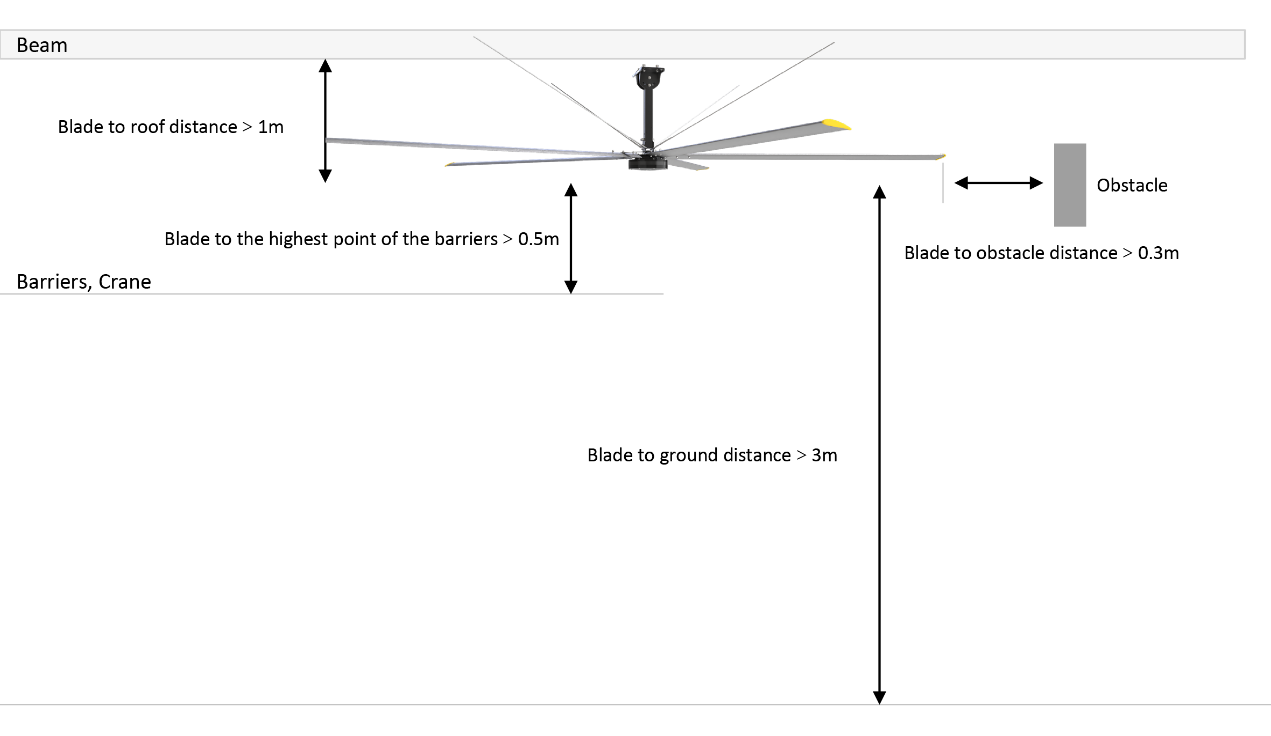 Regardless of the condition and weight of the mounting structure
Different installation environments require different installation structure types, so it is recommended to seek structural engineers to review and confirm the strength and stability of the structure before installing the ceiling fan, and then issue the best HVLS FAN installation plan. The most common installation structures are H-beam, I-beam, Reinforced concrete beam, and spherical grid.
Ignore coverage area requirements
The airflow coverage area needs to be considered before the fan is installed. The coverage area of ​​the fan is related to the size of the fan and the obstacles near the installation site. Apogee HVLS FAN is a super energy-saving fan with a maximum size of 7.3 meters in diameter. There are no obstacles at the installation site. The coverage area is 800-1500 square meters, and the best results can be obtained. Not counting or ignoring this aspect will result in your facility getting incorrect cooling and heating performance from the HVLS fans.
Ignore electrical specifications
Determining your voltage requirements is a prerequisite that cannot be ignored. Products should be ordered according to your business or company's electrical specifications. If you order a product that exceeds your company's voltage specification or capacity, the product will not work properly.
Ignore the Importance of Original Spare Parts
During the use of the fan, some problems may also occur due to the use of unreal low-quality spare parts. Therefore, we always advise our clients and customers to only purchase spare, genuine and verified parts.
APOGEE HVLS FAN-Direct Drive, Smooth Operation
Apogee HVLS Fans-Leading in Green and Smart Power, our dedicated team of experts will guide you to identify and avoid mistakes during the installation of big size energy efficient fans.
Contact us for effective consultation and relevant advice from proven experts. Contact us at 0512-6299 7325 to learn more about our best products for your industry.
---
Post time: Jul-15-2022